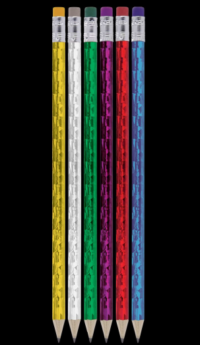 The humblest of writing instruments, the wooden pencil, is as popular and relevant today as it was one hundred years ago. Of course the vast majority of pencils are used as stationery items but it has long been a popular item in the souvenir market because it holds particular appeal for children.
Traditionally its use as an advertising product has been limited to low-cost promotions, training, seminars and hotels because multi-coloured corporate branding was impossible to achieve unless transfer systems were employed requiring high volume orders to justify the very expensive set-up costs.
The Pen Warehouse changed the market's perception of pencils as a promotional item over three years ago through its development of multicolour printing technology and consequently printed wooden pencils are now considered as a cost-effective alternative to printed pens for promotional campaigns. We can print up the three colours around the barrel at high speed and in close registration on most full-length pencils either with or without erasers. With over five million units in our UK warehouse we can cater for even the largest orders on a very quick turnaround.
You can view the complete promotional wooden pencil range here.
Or call us for a free sample on 01252 400270.