The Pen Warehouse ® prides itself on supplying trade partners with the highest-quality products while demonstrating continued commitment to customers and colleagues. Family, community and business ethics are at the heart of everything we do, driving our passion for innovation and customer service.
Your Trade-Only Supplier for Promotional Pens
Welcome to pens.co.uk, the home of promotional pens, pencils and desktop accessories. Our website is designed to be your one-stop-shop for all your printed pen needs, whether you are looking for a low-cost marketing giveaway or a premium corporate reward.
The Pen Warehouse is a strictly trade-only supplier and does not sell to the end-user. We hope that as you look through our incredible selection of products you will appreciate why we have become the trade's number one supplier for promotional writing instruments. Not only are we the top printed pen supplier in the United Kingdom and Ireland, we offer the widest selection of writing instruments in Europe. Whether you're looking for low-cost plastic pens, executive rollerballs or printed pencils, pens.co.uk should be your first port of call.
The Pen Warehouse offers industry-beating lead times, with most products dispatched in just five days and with 24-hour, 48-hour and 3-day express services also available. We can offer such fast turnaround thanks to holding extensive stock of all our products, while carrying out all printing and engraving in-house at our Hampshire-based premises.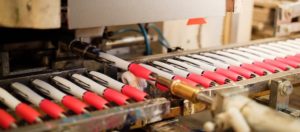 We are proud to boast the fastest auto laser engraving and digital printing machines in the market.
Our flexible production capacity means we can accommodate large or small orders easily, while our friendly and professional Customer Services team are happy to guide you through the product selection process.
Our History
Founded in the late 1970's by Managing Director Neil Cleere, we were originally a general trade supplier of promotional items, but by the mid-1980's had become a specialist supplier of printed pens and complementary promotional products, including printed pencils and accessories. Since then we have steadily expanded our range year-on-year to now include over 400 unique products, many designed in-house and so exclusive to The Pen Warehouse. During this growth we have built an enviable reputation for quality and service as a trade-exclusive supplier. Our innovative approach has helped define not only the way promotional pens are design but also marketed, to reflect the demands of today's discerning purchaser.

Our Philosophy and Ethics
Great service, quality and price are to be expected in today's competitive market, but we see ourselves as offering far more than these basic prerequisites. We consider our network of trusted distributors to be our partners and hope that they enjoy the experience of working with us as much as we do them. We believe that doing business should be a pleasure for our customers, our dedicated staff and our suppliers alike, and this philosophy is reflected in the way we approach our working relationships.
Ethical sourcing, our impact on the environment and corporate & social responsibility are overriding considerations that influence everything we do, to ensure that long-term sustainability for our society and planet is not compromised by short-term policies.

Our Team
We currently employ around 200 members of staff, covering administration, sales, printing and manufacturing. Many of our shop-floor employees have been with us since we first become involved in pen printing and our policy of ongoing cross-training and our recent apprenticeships scheme have given us a resource that we believe is unequalled in terms of experience and flexibility.
We are an equal opportunities employer and this is reflected in our diverse staff, representing multiple ethnicities, backgrounds and age groups. We are very much a meritocracy where hard work and talent are recognised and rewarded.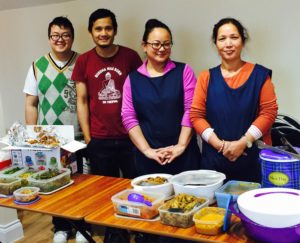 Our Community
We are proud to be an integral part of a diverse and culturally-rich local community.
Not only do we enjoy recruiting from the community and contributing to the local economy, we support a number of charities based in Hampshire and Surrey. These include the Aldershot-based Vine Centre, which does and incredible job aiding the homeless, and our local Trussell Trust food bank. We also regularly take part in fundraising initiatives to support national charities.
Our Products
The Pen Warehouse has the widest selection of promotional writing instruments in Europe and is the leading supplier in the UK and Ireland. Our range includes ballpens, rollerballs, fountain pens, gel pens, wooden pencils, mechanical pencils, crayons, colouring pencils, rulers, erasers, pencil sharpeners and pencil cases.
We offer top brands such as Cross, Sheaffer and DaVinci. We have the exclusive licence to sell Pierre Cardin-branded writing instruments in the UK and have developed our own range from the ground up to offer a top retail brand at a price point attractive to the promotions industry.
The Pen Warehouse is unique among promotional pen suppliers in that we develop our own products in-house, with exclusive lines designed specifically for digital print.
With over 450 products to choose from we're confident there will be a Pen Warehouse pen for you. Not only do we have best-in-industry dispatch times, we will not be beaten on price.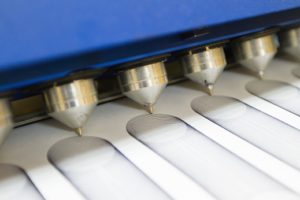 Our Quality Control
Every writing instrument we source or develop ourselves goes through a stringent period of quality control before we are happy to add it to our range. We work closely with our suppliers to ensure the best materials and manufacturing techniques are used and no corners cut.
This care and attention to detail extends to a range of quality control processes. These include checking all artwork prior to print and advising on changes; checking print quality and durability before we ship anything to your client; and regularly testing the writing length of our refills.
You can rest assured that every care has been taken to ensure your customers receive the best quality printed or engraved product.
Our Recent Awards
Gold Supplier of the Year 2018, PAGE
Supplier of the Year 2018, Sourcing City
Exceed Supplier of the Year 2018
Gold Supplier of the Year 2017, PAGE
Gold Supplier of the Year 2016, PAGE
Supplier of the Year 2016, Envoy
Gold Supplier of the Year 2015, PAGE
Supplier of the Year 2015, BPMA
Specialist Supplier of the Year 2015, Sourcing City
Gold Supplier of the Year 2014, PAGE
Supplier of the Year 2014, BPMA
Supplier of the Year 2014, Envoy
We'd Love to Hear from You
If you have any feedback on our website or product range, we would love to hear from you. If you need help choosing a product or can't find what you're looking for, we'll be happy to assist.
Call the applicable phone number at the top of this page or complete our Contact Form.
If you would like to work for The Pen Warehouse, please contact recruitment@pens.co.uk or visit our Recruitment pages.