Reading time: 2 minutes 35 seconds.
'A New Pantone Colour Whose Courageous Presence Encourages Personal Inventiveness And Creativity' – Pantone®
PANTONE 17-3938 Very Peri
Pantone® Very Peri is 2022's Colour of the Year 2022
The Pantone® Colour Institute have announced that PANTONE 17-3938 Very Peri has been selected as its 'Pantone Colour of the Year 2022' and we're thrilled that it is a shade of a colour very close to our heart with our Pen Warehouse Purple.

Pantone®'s Executive Director describes the selection as bringing 'a novel perspective and vision' from the trusted blue family with the violet undertones providing a 'joyous attitude and dynamic presence'. With recent years providing an unparalleled amount of change, Very Peri is said to be symbolic of the current transitions we are all facing in our daily lives and the propulsion into a dynamic digital world. The colour encourages us to dare to be curious and creative as we head into a new, re-written future – we like the sound of that!

The announcement took us back to our exploration of colour psychology in business last year where we interrogated how colour choices affect consumer behaviour and psychology. In celebration of Very Peri, we wanted to look at the colour purple again a little bit further…

With its parent colours being red and blue – purple holds onto both the power and luxury of red, whilst maintaining the relaxing tones of its parental blue. When synthesised, the overall feeling is one of mystery and also nobility, which is why we often see purple royal robes and why it is used often to honour military veterans such as The Military Cross.

Purple is also said to spark innovation and passion – two of our favourite words! With brands who use it often being associated with creativity and luxury.

With the sense of forward thinking, creativity and dynamism we can't help but think these are all qualities that our Mood® collection inhabit – embracing individuality and self-expression but with a drive to the future, all whilst maintaining the cool, calm and collectivism that purple tones tend to offer.
In honour of Very Peri's win, we've handpicked a few of our favourite purple promotional products that make up our Mood® Collection: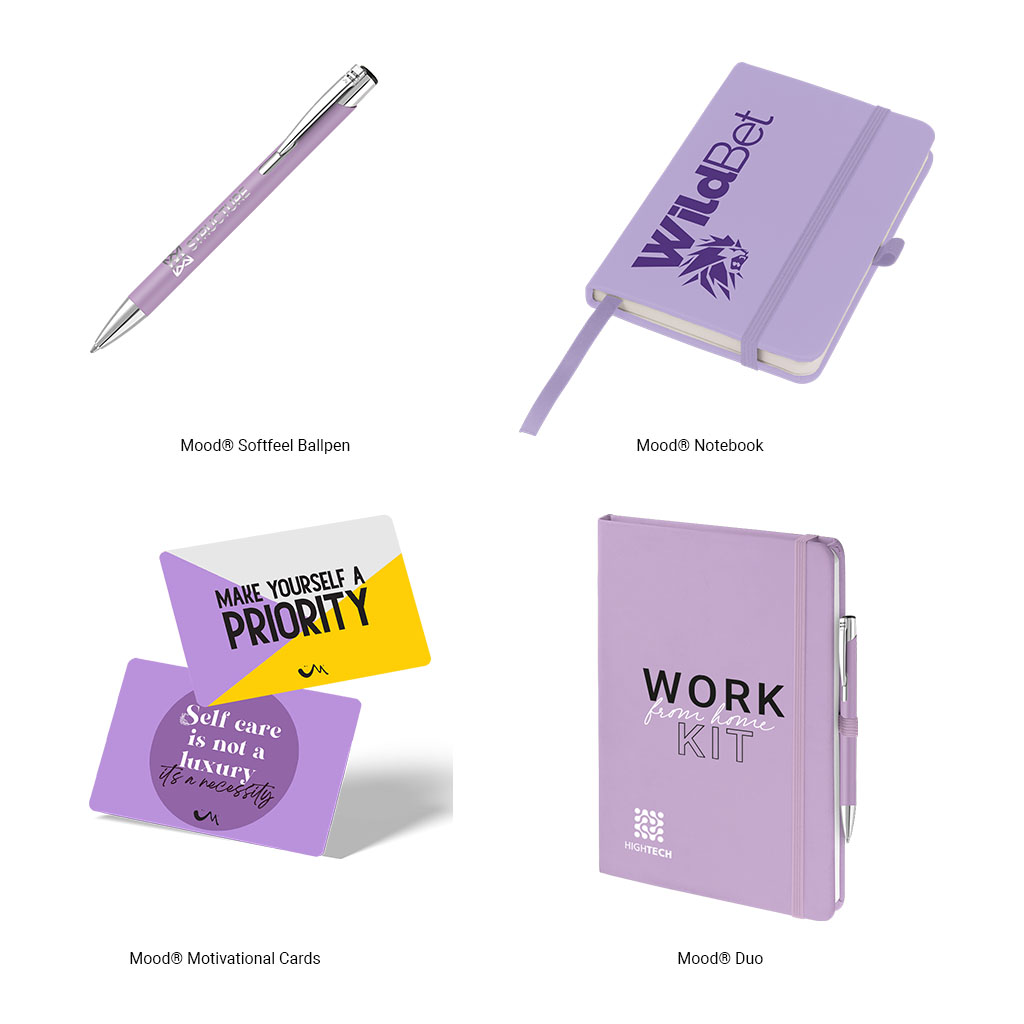 To find out more about our Mood® range or to speak to a member of our team, please contact sales@pens.co.uk.
Resources
https://www.pantone.com/uk/en/color-of-the-year-2022