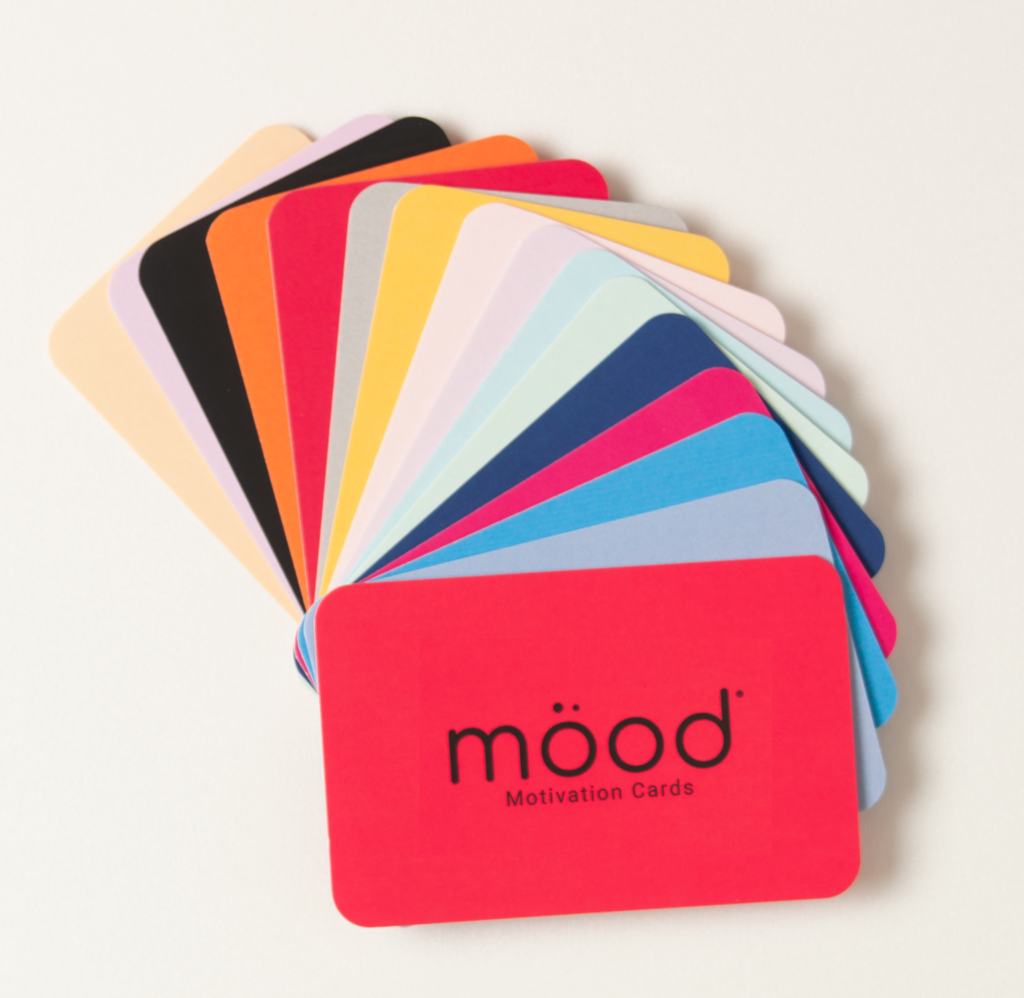 It feels challenging for most at present and with a product launch on the horizon born out of mindfulness, we thought what better way to collaborate with our customers than through a month of motivation!

So here goes…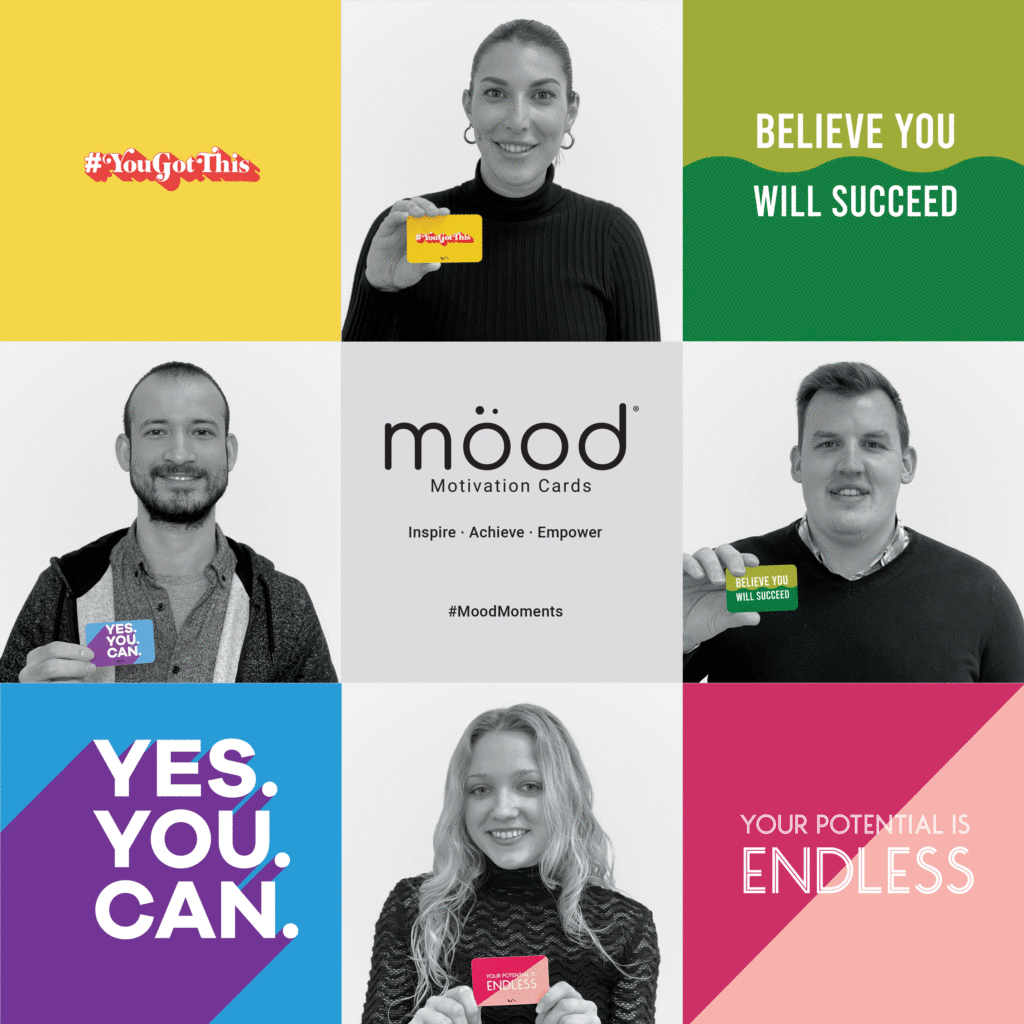 Mood® Motivation Cards
To celebrate the launch of our Mood® Motivation Cards, we have introduced Mood® Motivation Month for the month of February, sharing inspiring, uplifting, positively challenging and informative content on a weekly basis

Launch Video
Our launch video features our employees, who when we handed them the pack had never seen the Mood® Motivation Cards before. We gave them one card and asked them to say the first word that came to their mind, when they read it. Their reactions are real and that's the bit we wanted to capture, because that is the impact of these cards. It's a moment of realisation or love or strength. It is a moment of feeling something good or we hope, great!

The Journey
The Mood® Motivation Cards concept and end product was developed over a period of 4 months. The Coronavirus pandemic and its impact on mental health and wellbeing led the team here into thinking of ways to spread positivity and challenge negative thinking. After much research (Pinterest), brainstorming (Zooms galore and random sketches) and planning (Excel, Hangouts, Slides) a library of motivational messages was curated. The Mood® brand has always promoted individuality and self-expression, so our Motivational Cards were the perfect addition to the collection. This range has been designed to be a powerful promotional tool designed to encourage mindfulness, represent company values and show kindness.

Materials
Quality, sustainability and professional print finishing are core factors to us. Each card and packaging is UK-manufactured in our Hampshire-based factory from FSC® certified paper, ensuring responsible material sourcing.
Choose from a standard gloss finish or opt for matt lamination for a tactile, soft-feel finish.
There is no excess packaging with these cards. The full colour printed wallet is used to store the card deck for the lifetime of the product.

The Power of Mindfulness
Where do you start? A daily routine of positive affirmations is a great way to begin your day and this is where Mood® Motivation Cards are an essential part of your mindfulness tool kit. Read through each message in the deck and pick out the ones that really resonate with you, that echo your values and feelings in this moment in time or if you like surprises, pick one at random, commit to it. Carry it with you throughout the day and in moments of stillness be that card.

Each message is an important reminder you are winning, so keeping your favourite card in your purse or wallet, or having it pinned at your desk may be a good idea – it will remind you that you can achieve what you believe. Repetition and daily practice are important factors for positivity, self-confidence and motivation to blossom.

Weekly Challenge
So now over to you… Choose one our Mood® Motivation Messages that resonates with you or is relevant to your beliefs and goals. Repeat this message to yourself when you wake up, when you look in the mirror and regularly throughout the day. If you are really committed, put a check-in in your diary 3 times a day.

Or, share a #MoodMoment with a colleague, customer, friend or family member. Show support, appreciation and kindness. A small gesture can go a long way.

You can download our GIFs and social media assets here that you can share on WhatsApp or over social media. Why not share one with a friend?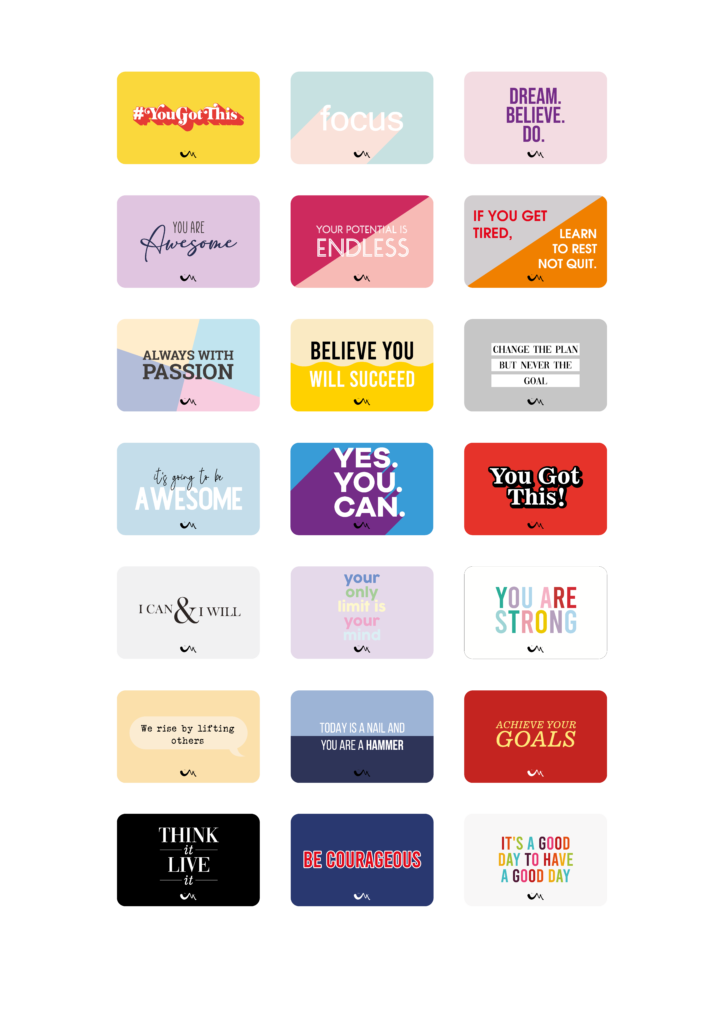 Share a #MoodMoment
How to choose your Mood® Motivation card deck:

Size

Boxed pack of 10 cards
Boxed pack of 20 cards

Style

Corporate (based on Mood® colours that match your company branding)
Colourful
Bespoke (your own messages or company values)

Personalise

Add your logo or marketing message to the front of the card and outer box
Add individual personalisation

Finish

Standard gloss
Matt lamination

Delivery

One delivery address
Fulfilment to multiple addresses
Branding is available on the outer box and top-side of cards only. Individual personalisation is available for an extra charge.

Research and References
https://positivepsychology.com/daily-affirmations/
https://www.psychologytoday.com/us/blog/your-wise-brain/201010/confronting-the-negativity-bias
https://www.inc.com/nate-klemp/try-this-neuroscience-based-technique-to-shift-your-mindset-from-negative-to-positive-in-30-seconds.html