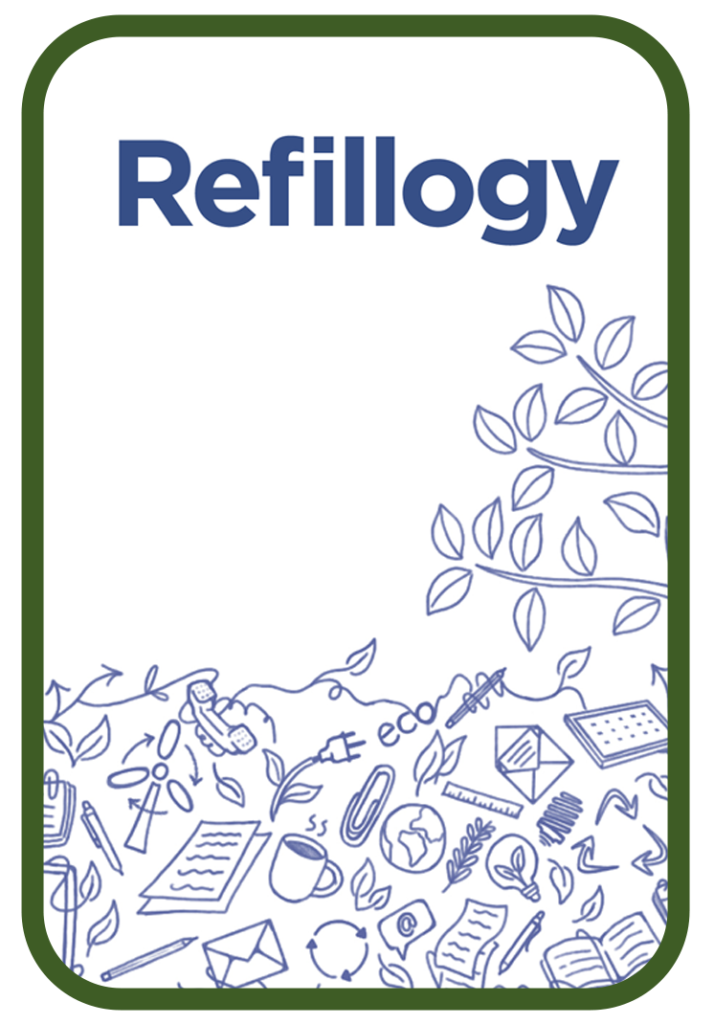 One of the many things we've learnt on our journey to reducing the environmental impact of our practices and products is that, when it comes to sustainability, it's always better to reuse than to recycle.
This is because recycling is an energy-consuming procedure which requires existing materials to undergo a process in order to become raw materials. Reuse, however, provides a sustainable alternative which lessens demand on our natural resources while reducing various forms of pollution.
Refillogy.com
This led us to develop Refillogy.com: a comprehensive solution to disposable commodity items which ensures safety and transparency for the end user. When it comes to writing instruments, the best form of sustainability is to achieve multiple uses from the same pen, and for this a refill replacement service is an absolute necessity and something we're happy to facilitate via our new domain.


Our long-life refills offer a sustainable solution to your writing needs by transforming a traditionally single-use item into one that can be reused time and time again. Our refills last much longer and need to be replaced less frequently than their supposedly 'jumbo-sized' alternatives, because many jumbo refills are in fact not filled all the way to the top with ink. In what might be considered a closely guarded secret of the industry, most jumbo refills only contain ink in the capillary section rather than the chamber itself. The weight of pens with jumbo refills actually comes from the plastic components within the pen – not from the ink. Believe it or not, there is usually far more ink in a thinner refill than a jumbo refill, with most jumbos only providing around 500 metres of writing length versus the 800-1500 metres provided by standard refills and upto 3,000 metres provided by metal Parker refills!
We're proud to offer long-life refills that are both true to their name and thoroughly tested in-house to ensure we're providing the best quality product possible. What's more, our refills are filled with high-quality German Dokumental® ink for a smooth, even writing experience which outlasts other available refill options. Because the ink in our refill selection is indelible to ISO12757-1+2, it will last an incredibly long time when applied to the page and will not fade or perish over time.
To use the Refillogy online refill service, simply visit www.refillogy.com and enter the serial number printed on the side of the refill into the search bar on the homepage. You will then be presented with the correct refill(s) for your particular pen, which you can then select to order.
Writing Instrument Recycling Program: Creating More Ways to Recycle
We've also partnered up with the Writing Instrument Recycling Program: a nationwide scheme in which waste pens, pencils and various stationery items can be recycled completely free of charge at various drop-off locations across the country.
The scheme also offers TerraCycle reward points for all recycled waste over 15kg, which can be redeemed with any school, charity or non-profit organisation of the location supervisor's choice. One TerraCycle Point is worth £0.01.

The Writing Instrument Recycling Program accepts any brand of pen, highlighter and marker pen, as well as all forms of correction fluid or tape. Currently not accepted are glue sticks, erasers, rulers and other cutting objects, as these may contaminate the recycling process.
To find your nearest public drop-off location, please visit
http://pens.uk/Jnl1ob.

Tree Nation Planting Initiative
We've also teamed up with Tree Nation to introduce a tree planting initiative when purchasing selected products, including metal pens such as the Mood® Collection Ballpen.
Whenever you notice the tree symbol throughout our product range, a percentage of sales from the order of that product will be donated to planting trees across the globe. This helps to effectively offset CO₂ emissions while preserving the environment and enhancing biodiversity. With over 300 species of plants, the work of Tree Nation actively tackles deforestation, reduces greenhouse gas emissions and improves air quality for a cleaner, greener future.
Find out more about the work of Tree Nation here.

In Summary
We consider Refillogy to be something of a 'full circle moment' when we look back at our sustainability journey so far. Although we're by no means finished examining our processes and business practices in the pursuit of reducing our environmental impact as much as possible, our study of sustainability has allowed us to offer a service that tackles a key issue while offering a safe and practical solution.
Refillogy helps us and our customers implement a system of circular economy, eliminating waste and the continual use of our natural resources. The service also brings awareness to the idea of conscious buying and makes us think more carefully about purchasing products for long term (or even better – life-long) use, rather than opting for products which are designed to be disposed of after a brief lifespan.
We've got a long journey ahead of us and so many more topics to tackle and processes to redefine, but Refillogy gives us an anchor from which to offer our customers sustainable options, raise awareness and encourage conscious buying.
Join the refill revolution, and let Refillogy help you achieve real sustainability through the power of reuse.

Download a condensed version of this blog post for use in your own marketing collateral here.